reach our active traders and investors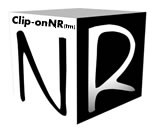 Clip-OnNR™ – News Re-distribution
Marketing your message shouldn't stop when sending out your company's news release. Sure, you tell the world about your news — but like a tomahawk, Clip-onNR™ targets active traders and investors. Clip-onNR™ is a low-cost, value-added, news release redistribution service every company should employ to compliment their message and business branding to the public.
How it works: Our Clip-onNR™ system will re-distribute your news release within 1 hour of submission your company news to our 27,984 DOUBLE opt-in newsletter subscribers. Additionally, if you prefer, you can embargo (delay) Clip-onNR™ for a specified release date/time. Get started today for as little as $99!
Have a pre-sale question? We're here to answer, ask it here.
already a client? ...submit your news
can you envision your company on national tv, inexpensively?
Get marketing details here.
Desert Son Media
1902 W. Union Hills Drive
#87372
Phoenix, AZ 85027
United States
(801) 494-0127
Toll Free (866) 320-4424
The original since 2001, Traders Nation® is a television talk show for smallcap stocks, financial market news, and household name guests that is syndicated nationwide to 48-50 million households across 210 markets.